George Correia
Executive Chef, Woodbine Entertainment Group
Overseeing all of Woodbine Entertainment​'s culinary outlets, Chef Correia is at the helm a massive team of chefs and kitchen staff. From casual trackside BBQ's to gourmet meals for dignitaries, George has seen and done it all since joining Woodbine in 1992.
After studying at Toronto's George Brown College, Chef Correia launched his career by travelling overseas to train under Master Chefs and represent Team Canada at the highly esteemed Luxembourg Expogast World Culinary Competition.
Chef Correia's advice for a fabulous meal? Using great quality, fresh ingredients and keeping the food simple. Don't overthink it. Let the ingredients be the star of the show.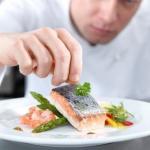 Michael Mortensen
Chef de Cuisine, Woodbine Entertainment Group
Chef Mortensen first joined Woodbine Entertainment Group in 1998 after 6 years executing large scale and high profile events with Maple Leaf Sports & Entertainment. Having studied at the Copenhagen Hotel & Restaurant School, Chef Mortensen finds his culinary roots firmly planted in the Danish tradition of creating innovative dishes out of the highest quality, local ingredients.
His culinary philosophy maintains that cooking should be based on the finest and freshest seasonal ingredients that are produced sustainably and locally. ​